When your oven starts producing smoke, it can be a cause for concern. Whether it's a minor issue like spills or a more complex problem with heating elements, understanding the common causes and knowing how to troubleshoot can help you enjoy smoke-free cooking. In this guide, we'll explore the typical culprits behind oven smoke, provide DIY troubleshooting steps, and discuss when it's best to seek professional help for more intricate issues.
Understanding the Oven Smoke Issue
Cooking is a delightful experience, but it can quickly turn frustrating when your oven starts producing smoke. The unexpected appearance of smoke in your kitchen can be alarming, but understanding the issue is the first step in resolving it. In this section, we'll delve into identifying the signs of oven smoke and emphasize the importance of addressing this problem promptly.
Identifying the Signs of Oven Smoke
Visible Smoke: The most obvious sign is the presence of visible smoke when you open the oven door. This can be light wisps of smoke or more substantial plumes, depending on the severity of the issue.
Unpleasant Odors: Alongside smoke, you may notice unpleasant or burnt odors, which can be an indicator of something amiss in your oven.
Smoke Alarms: If your oven produces enough smoke, it might trigger your home's smoke alarms, leading to loud and inconvenient alerts.
Uneven Cooking: Smoke issues can also affect the cooking process, leading to unevenly cooked or burnt food.
The Importance of Addressing Smoke Problems
Dealing with oven smoke is not just about restoring a pleasant cooking environment; it's also a matter of safety and maintaining the functionality of your appliance. Here's why addressing oven smoke issues promptly is essential:
Safety: Smoke can contain harmful particles and gases that pose health risks. Breathing in smoke is never safe, and it can lead to respiratory issues and discomfort.
Appliance Longevity: Ignoring smoke problems can exacerbate issues within your oven, potentially leading to the need for costly repairs or even premature appliance replacement.
Quality of Cooking: Cooking in a smoky environment can ruin the taste and quality of your dishes. Smoke can impart undesirable flavors to your food, affecting the dining experience.
Now that we've covered the signs and importance of addressing oven smoke issues, let's move on to explore the common causes behind this problem and how you can troubleshoot and resolve it.
Common Causes of Oven Smoke
Understanding the root causes of oven smoke is crucial in order to effectively troubleshoot and resolve the issue. Here are the common culprits behind oven smoke problems:
1. Overflows and Spills:
Symptoms: When food or liquid spills over onto the oven floor or oven racks, it can create smoke when exposed to the oven's heat.
Description: Overflows and spills occur when cooking dishes or food items bubble over or leak onto the oven's hot surfaces. This can lead to the production of smoke as the spilled material is heated and begins to burn. Addressing this issue is essential to prevent smoke and maintain a clean oven.
2. Excess Grease or Residue:
Symptoms: Over time, the buildup of grease and food residue on the oven's interior surfaces can produce smoke when heated.
Description: The accumulation of grease and food residue inside the oven can create a smoky situation when the oven is in use. As these deposits are exposed to high temperatures, they can start to smoke and release unpleasant odors. Regular cleaning is the key to avoiding this issue and enjoying a smoke-free cooking environment.
3. Faulty Heating Elements: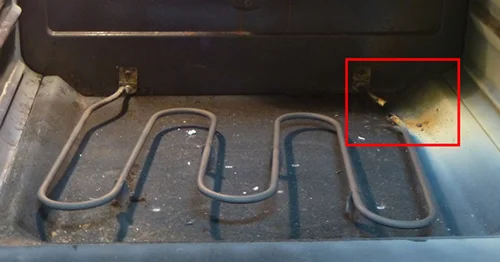 Symptoms: Malfunctioning heating elements, such as the bake or broil elements, can generate uneven heat or excessive heat in localized areas, leading to smoke issues.
Description: Heating elements in the oven are responsible for generating the heat needed for cooking. When these elements malfunction or become damaged, they may produce uneven or excessive heat, resulting in localized hotspots that can cause food or residue to smoke or burn. Proper maintenance and timely repair are crucial to prevent this.
4. Incorrect Temperature Settings:
Symptoms: Setting the oven to an extremely high temperature can lead to smoke, especially if there are food spills or residue inside.
Description: Using excessively high oven temperatures, especially when there are spills or residue present, can lead to smoke problems. This occurs as the residue is rapidly heated and produces smoke. It's important to set the oven temperature correctly according to your recipe and avoid unnecessarily high settings.
DIY Troubleshooting and Solutions
Now that we've identified the common causes of oven smoke, let's explore the do-it-yourself (DIY) troubleshooting steps to resolve this issue and enjoy smoke-free cooking:
1. Overflows and Spills
Step 1: Preventive Measures
Use cooking dishes with higher sides or place a baking sheet on the lower rack to catch any potential spills. This helps contain spills and prevents them from creating smoke when exposed to the oven's heat.
Step 2: Regular Cleaning
Clean the oven interior regularly to remove any residue from previous spills. Use an oven-safe cleaner and follow the manufacturer's cleaning recommendations to ensure a clean and smoke-free cooking environment.
2. Excess Grease or Residue
Step 1: Routine Cleaning
Regularly clean the oven's interior, including the walls, racks, and oven bottom. A clean oven is less likely to produce smoke when heated, as it prevents the buildup of excess grease and residue.
Step 2: Cleaning Tools
Use an oven-safe cleaner, warm water, and a scrubbing tool to remove built-up grease and residue. Make sure to thoroughly clean all surfaces to maintain a smoke-free cooking experience.
3. Faulty Heating Elements
Step 1: Visual Inspection
Check the condition of the heating elements. Ensure they are free from visible damage, irregularities, or signs of wear that could lead to uneven heating and smoke production.
Step 2: Signs of Damage
If you notice any visible damage or irregularities in the heating elements, such as uneven heating patterns, it's advisable to consult a professional technician. They can inspect, repair, or replace the elements as needed to prevent smoke issues.
4. Incorrect Temperature Settings
Step 1: Temperature Adjustment
Double-check the oven temperature settings to ensure they are appropriate for your cooking needs. Avoid unnecessarily high temperatures, as they can lead to smoke, especially when there are spills or residue inside the oven.
Seeking Professional Help
When to call an appliance repair technician for more complex issues.
While many oven smoke issues can be resolved through DIY troubleshooting, there are situations where it's best to seek the expertise of a professional technician. Here are some scenarios when professional help may be necessary:
1. Electrical Problems
If you suspect or identify electrical issues with your oven, such as malfunctioning wiring or components, it's crucial to leave these repairs to a qualified technician. Electrical problems can be dangerous and require specialized knowledge to address.
2. Gas Oven Issues
Gas ovens pose unique safety concerns, and issues related to gas supply, ignition systems, or burners should always be handled by professionals. Gas leaks and faulty gas connections can lead to safety hazards and should not be taken lightly.
3. Complex Repairs
When the issue is beyond your knowledge or the scope of common troubleshooting, such as problems with the control board, sensor systems, or advanced features, it's best to consult a professional. Attempting complex repairs without the necessary expertise can lead to further damage.
4. Warranty Considerations
If your oven is under warranty, attempting DIY repairs may void the warranty. Professional technicians are often authorized to perform warranty repairs, ensuring your coverage remains intact.
5. Safety Concerns
If you ever feel unsure about the safety of diagnosing or repairing an oven issue, do not hesitate to contact a professional. Safety should always be a top priority when dealing with appliances.